Extra Clean, Modern Guest Rooms & Kitchenettes
The Canaan Motel is privately owned and operated. We pride ourselves on the cleanliness and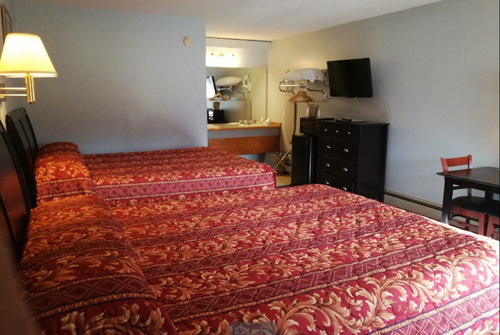 quality of our guest rooms. We offer extra clean guest rooms available in a variety of arrangements. Our rooms have either two queen beds or one king bed. We also have efficiency rooms with kitchenettes.
Please note: for the comfort of all guests, all rooms are non smoking. Details on our smoking policy are listed here.
Each of our rooms comes with new LED TV with HDMI plugs. Some rooms have extra large 50+ inch TV's. Hair dryer, microwave, & refrigerator, free WI-Fi and telephone with free local calling.
Call Us Directly For Best Rates.
Reservation Policies
Reservations: Advanced reservations are suggested especially during the summer and fall seasons. Rooms cannot be guaranteed beyond 3:00pm. Unless credit card information provided or one night's stay advance deposit received. All deposits must be received within 10 days (June thru November) or 5 days (December thru May) of date reservation is placed. Full payment is due on arrival.
Canaan Motel is not responsible for weather conditions, personal emergencies, or schedule changes. If there are any unpaid balance will automatically lifetime ban at Canaan motel.
No refund: No refund once you check into room on arrival date. Individual room guest have to fill out registration card with name and sign. Room charges must be paid in advance.
Direct check-in after 3:00 pm and direct check-out time 10:00 am. Daily room rate is charge if you are still in the room after 11:00 am. Requests for early check-in & late check-out will be handled based on motel availability at the time of check-in with extra cost.
Cancellation: Single room reservation must be cancelled 2 days hotel time prior to your arrival date, in order to avoid a one room night plus tax cancellation fee. (Direct booking)
Call for credit card authorization form & registration form. Please fax the completed form back to motel call for fax #. Please sign credit card room receipt and fax it back to motel.
Cancellation: A deposit of the first night's charges will guarantee your reservation for the day of your scheduled arrival. A refund will be issued if you cancel in advance according to policies single or group cancellation policies or single or group early departure policies.
Group Reservation Cancellation: When reserving more than 3 rooms will be required 14 days in advance cancellation prior to your arrival date check In. Less than 14 days cancellation will be No Refund.
Group Early Departure: When reserving more than 3 rooms will be required 14 days advance notice for early departure refund or else No Refund will be given. The group discount will not be honored and guest will have to pay regular rate for weekdays or weekends they are staying.
Check in anytime after 3:00pm. Special arrangements must be made for late check-in after 9:00 pm. Just inform us of your circumstances before arrival time on the day.
Check out 10:00am. Please check out and drop keys in express checkout key drop box outside of office.
A damage deposit is required on arrival with room rental payment. You should be reimbursed on check-out. Your deposit will be refunded in full subject to an inspection of the property.
No Show: No show on arrival of your scheduled day 100% room rate and tax will be charged of the first night on credit card and any remaining night will be canceled automatically & for some reason motel doesn't receive payment guest will be lifetime banned at canaan motel.
Early Departure: Single room 24 hours advance notice required for early departure refund.
Guest who checks out of the hotel after 10:00 am and prior to their scheduled departure date are subject to and early departure fee for 1 night and plus tax.
Room Rates and Seasons:
In season May thru November – ranges from $133.00 – $500.00
Off season December thru April – ranges from $114.00 – $500.00
Rates are based on double occupancy and subject to a 9% Maine sales tax. Rates subject to change without notice.
Payment: Cash, Travelers checks, and most credit cards accepted. Sorry, no prepaid cards or atm debit cards are accepted.
Smoking: for the comfort of all guests, all rooms are non smoking. Guests who smoke in a room will be charged a $300 cleaning fee.
Pets/Animals: Sorry, for the comfort of all guests we no longer allow pets or any animals in the rooms. Anyone who violates this policy will be automatically charged $250.00.
• Children are always welcome. Children under age 16 stay free. Age 16 and over is considered an adult.
• More than two adults in one room and/or a request for a cot/crib can result in an additional rate.
• Ask us about our frequent guest program and special group rates.
Canaan Maine Motel Rooms Kitchenette Efficiencies